Baja Blast

The official Baja Blast label art.
Description
Flavor:
Tropical Lime
Color:
Blue-Green

     

Details
Current Status:
Permanent Flavor
Locations Available:
U.S. Taco Bell restaurants
Year(s) Available:
2004 - Present
Related Flavors:
Game Fuel (Tropical), Distortion
Related Promotions:
N/A
Baja Blast is a Mountain Dew flavor. It is exclusively available at Taco Bell restaurants, and is chemically formulated to taste good with their food. Its tagline is "A tropical lime storm".
Description
Baja Blast is a tropical lime flavored soda, and is blue-green in color.
Baja Blast Freeze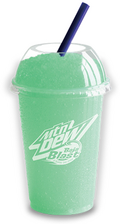 Beginning in August 2012, select Taco Bell locations began offering "Baja Blast Freeze", an icy variant of Baja Blast similar to the restaurant's pre-existing Frutista Freeze line. After this test-release, the Baja Blast Freeze was released nationally beginning January 31, 2013.
Trivia
Since it's release in 2004, many have speculated on the internet saying that Baja Blast was going to be bottled and sold in stores. This rumor has been confirmed to be false, as PepsiCo. (who owns Mountain Dew products) and Yum! Brands (who owns Taco Bell) have a strict contract prohibiting it's distribution outside of Taco Bell restaurants.
Videos have recently been posted in Dew Labs showing Baja Blast being found in fountains in a convenience store. While this remains unconfirmed, this may symbolize that Baja Blast is no longer a Taco Bell-exclusive.
Links
Gallery