Pour some info into this article!
This article is need of Cleanup. You can help out Mountain Dew Wiki by re-organizing parts of the article, checking grammar and spelling, and doing other helpful things to correct the article.

Honor the Code was a promotion of Mountain Dew that lasted from September-December 2010 and promoted the game "Halo Reach." People could win prizes after they entered Codes into the official site. Each flavor promoted a different character in the game.
Products-Characters
Edit
The flavors are listed in order of introduction to the Mountain Dew product line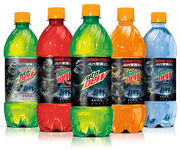 -Mountain Dew White Out Noble 6 Halo Reach edition was not available in stores and was the top secret in the box that was won by many Dew fans. It can be distinguished from the other 5 flavors by the color of its cap (the others are orange, and yet White Out has a white cap).
Game Fuel (Citrus Cherry) didn't appear during the Honor the Code promotion.
Ad blocker interference detected!
Wikia is a free-to-use site that makes money from advertising. We have a modified experience for viewers using ad blockers

Wikia is not accessible if you've made further modifications. Remove the custom ad blocker rule(s) and the page will load as expected.