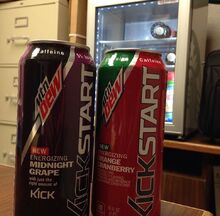 Kickstart (Orange Cranberry) was a flavor of Mountain Dew Kickstart that was distributed to Pepsi employees and projected to release in January 2016 along with Kickstart (Blood Orange), Kickstart Blueberry Pomegranate, Kickstart (Midnight Grape), and Kickstart Watermelon, but did not appear in stores or on advertisements accompanying the other flavors.
Ad blocker interference detected!
Wikia is a free-to-use site that makes money from advertising. We have a modified experience for viewers using ad blockers

Wikia is not accessible if you've made further modifications. Remove the custom ad blocker rule(s) and the page will load as expected.