Ad blocker interference detected!
Wikia is a free-to-use site that makes money from advertising. We have a modified experience for viewers using ad blockers

Wikia is not accessible if you've made further modifications. Remove the custom ad blocker rule(s) and the page will load as expected.
News
November 30, 2014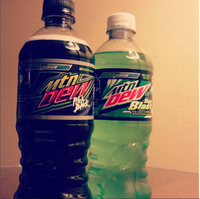 • Images have surfaced revealing that both Pitch Black and Baja Blast will be returning to store shelves for a limited time in 2016 as a part of the DEWcision 2016 promotion. While not much is known at this time, it seems the promotion will involve fans voting for their favorite flavor via Twitter hashtags. At this time, there is no reason to believe that either flavor will remain available after the promotion, or that either will be permanently discontinued in any fashion.
• Game Fuel (Citrus Cherry) and Game Fuel (Berry Lime) are now available in stores to promote Call of Duty: Black Ops III.

Trainmaster718, admin of the Mountain Dew Wiki was here! (talk page) 02:52, December 1, 2015 (UTC)
Poll
Are you excited that Pitch Black is now a permanent flavor?
Featured Flavor

Mountain Dew Electric Charge Freeze
is the newest flavor exclusively available as a Slurpee at 7-Eleven and other select stores. This freeze's Sour Lemonade flavor is a supercharge to the taste buds, and a refreshing coolant for the coming summer heat!
Read more here!
Contribute To This Wiki
Check out the community portal to see what the community is working on, to give feedback or just to say hi.
Disclaimer
This is a fan-driven Wiki, and is in no way an officially maintained website. All official Mountain Dew names, titles, logos, images, and designs, are owned and registered by PepsiCo, Inc.