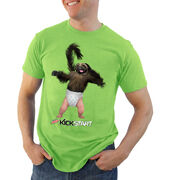 Puppy Monkey Baby
(also styled PuppyMonkeyBaby) was a CGI character created to promote Mountain Dew
Kickstart
for Super Bowl 50. The promotion has garnered a wide amount of media coverage, both positive and negative. According to iSpot.tv, the spot was rated #1 of all the Super Bowl commercials of the night, having generated 2.2 million online views and 300,000 social media interactions after airing.
The ad features a computer-generated mash-up of three things that the public generally finds to be cute or harmless; a Pug puppy (the head), a monkey (the body and tail), and a dancing baby (the hips and legs). The puppy monkey baby dances with three men who are presumably watching the Super Bowl, offering them Mountain Dew Kickstart, which is similarly described as being a combination of three things (Mountain Dew, juice, and caffeine).
Ad blocker interference detected!
Wikia is a free-to-use site that makes money from advertising. We have a modified experience for viewers using ad blockers

Wikia is not accessible if you've made further modifications. Remove the custom ad blocker rule(s) and the page will load as expected.